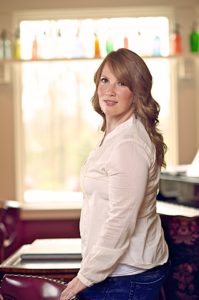 Heather Bays career as a musician started on a warm fall evening in the sanctuary of her church in Clarkson, Michigan at a "Vespers" service. She sat down at the piano and accompanied herself singing an old Imperial's tune called "Part-Time Servant".
It was there that she wowed her first crowd and her journey toward using her musical gifts for good began. In her young adult years she dabbled with a career in opera and won accolades and scholarships for her abilities, but continued to feel the pull toward God that she had felt at the early age of 16. Her first recording experience was with Gaither Music while she was studying Music Education at Anderson University. It was there that she was "hooked" by the studio singing bug.
Heather is now a first call studio singer in the Indianapolis and Nashville TN area where she  records voice-overs, jingles, choral demos, film scores, video game scores and works on others' personal projects. Her versatility and experience have given her the opportunity to work with many significant artists and companies over the years. Including but not limited to: Hans Zimmer and his company Remote Control Productions, Disney, Sandi Patty, Bill Gaither, EA Games, The Indianapolis Colts, The Indianapolis Pacers, The Indianapolis Symphony Orchestra and many others. Having finished a Music Education degree in the midwest in 1995, another passion of Heathers is working with Show Choirs and high school choral departments around the country.  She is in high demand as a judge and clinician for many of the best programs in the nation including premiere programs in Iowa, Indiana, Connecticut, and Illinois.
Making a living as a professional musician also includes (and is some of the most fun!)  performances with Pop Symphony Orchestras including and not limited to The Indianapolis Symphony Orchestra, The Jackson Symphony Orchestra, The Anderson Symphony Orchestra where she has shared the stage with renowned tenor Lawrence Brownlee, Josh Kaufmann and Sandi Patty among many others.
Heather has also ministered to thousands with her voice in churches, at women's retreats, conferences and concerts using her voice and musical gifts, which is one of the most rewarding parts of her career and life. She has worked in ministry with programs and individuals like Angela Thomas, Priscilla Shier, The True Women's conferences, Northview Church in Carmel Indiana, Pam Farrel, Gull Lake Ministries and countless churches across the country after spending 23 years in full time church ministry on top of her professional music career.
She has two albums, Let Beautiful Be and Heather Bays: Christmas at the Paramount (a live performance of her concert with the Anderson Symphony Orchestra) all available on iTunes.
However, her first and most important job is being mom to young adult daughters Chloe and Evalee; the greatest gifts of her life.